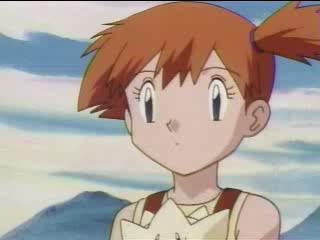 Misty is the youngest of four sisters and the Gym Leader of Cerulean City. She left home with the goal of becoming the world's greatest water Pokémon trainer. Misty met Ash when she "fished" him out of a river. She travelled around with Ash, Brock, and Tracey through the Kanto region, Orange Islands, and Johto region.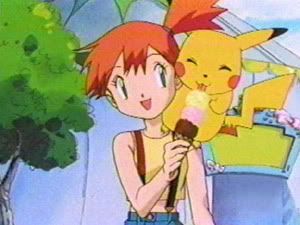 Misty can be sweet and optimistic at times, but she is best known for how easily she can be angered or frustrated, and how loud and violent she can become in response. She is very extreme in most of her moods, and can switch between them quickly.
She started to follow Ash because to wanted to make him replace her bike, which he had accidentally destroyed when they first met. However, Misty often seemed to have forgotten about the bicycle, indicating that her real reason for following along was that she simply wanted to remain with her friends.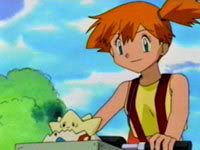 After Ash competed in the Johto League Silver Conference, however, her bicycle is repaired and returned to her by the Viridian City Nurse Joy. Misty was shown to be sad that she no longer had the convenient excuse to travel with Ash. In addition, her sisters Daisy, Lily, and Violet, called Misty at this time to tell her they were going on a world tour, and needed her to return to Cerulean and watch the Gym in their absence. Misty wanted to stay with Ash, but felt it was her responsibility to take over the Gym, which would be shut down if left unattended.